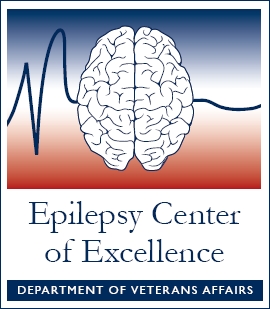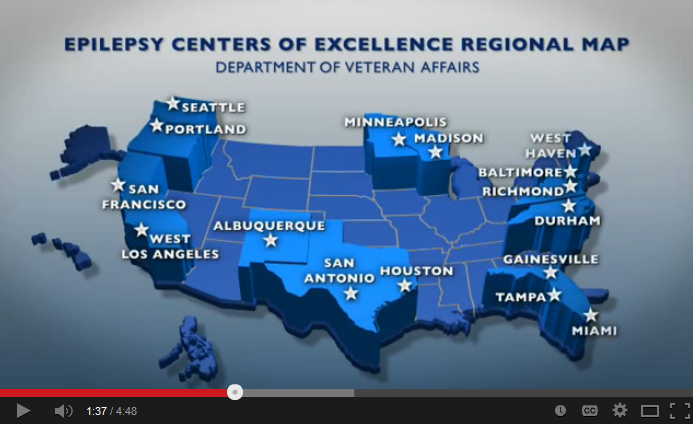 The American Veteran created a video about the Epilepsy Centers of Excellence. Click on the picture above to view this video. Please share this video with anyone interested in learning more about the ECoE.
Epilepsy
WHAT IS EPILEPSY?
Epilepsy is a medical condition that produces seizures that affect a variety of mental and physical functions. When a person has two or more seizures, they are considered to have epilepsy.
What is a seizure?
A seizure happens when a brief, strong rush of electrical activity affects part or all of the brain. Seizures can last from a few seconds to a few minutes. They can have many symptoms, from convulsions (jerky muscle contractions) and loss of consciousness to some that are not always recognized as seizures, like blank staring or lip-smacking.
Epilepsy vs. seizures
Seizures are characterized by a sudden change in movement, behavior, sensation or consciousness produced by an abnormal electrical discharge in the brain. Epilepsy is a condition of spontaneously recurring seizures. Having a single seizure does not necessarily mean a person has epilepsy. High fever, severe head injury, lack of oxygen, or a number of other factors can cause a single seizure.
Epilepsy, on the other hand, tends to be a lifelong condition that affects how electrical energy and connections behave in the brain.
FIRST AID
Convulsive seizures
When providing seizure first aid for generalized tonic-clonic (grand mal) seizures or partial seizures with secondary generalization, these are the key things to remember:
Keep calm and reassure other people who may be nearby.
Don't hold the person down or try to stop their movements.
Time the seizure.
Clear the area around the person of anything hard or sharp.
Loosen ties or anything around the person's neck that may make breathing difficult.
Put something flat and soft, like a folded jacket, under the person's head.
Turn them gently onto one side. This will help keep their airway clear.
Do not try to force their mouth open with any hard implement or with fingers. A person having a seizure CANNOT swallow their tongue. Efforts to hold the tongue down can injure teeth or the jaw.
Don't attempt artificial respiration except in the unlikely event that a person does not start breathing again after the seizure has stopped.
Stay with the person until the seizure ends naturally.
Be friendly and reassuring as consciousness returns.
Offer to call a taxi, friend or relative to help the person get home if they seems confused or unable to get home by themself.
An uncomplicated generalized tonic-clonic (grand mal) seizure occurs in someone who has epilepsy but is not a medical emergency, even though it looks like one. It stops naturally after a few minutes without ill effects. The average person is able to continue about their business after a rest period, and may need only limited assistance or no assistance at all in getting home. In other circumstances, an ambulance might need to be called.
When to call an ambulance
An ambulance should be called if:
The seizure happened in water.
The person is not wearing any medical ID, and there is no way of knowing whether or not the seizure is caused by epilepsy.
The person is pregnant, injured, or diabetic.
The seizure continues for more than five minutes.
A second seizure starts shortly after the first has ended.
Consciousness does not start to return after the shaking/convulsing has stopped.
If the ambulance arrives after the person has returned to consciousness, the person should be asked whether the seizure was associated with epilepsy and whether emergency care is needed.

More about Epilepsy
Epilepsy Centers of Excellence
The VA has funded the Epilepsy Centers of Excellence.  The Centers of Excellence are charged with: (1) establishing a national system of care to all veterans with Epilepsy, (2) educating veterans and others in their lives impacted by Epilepsy about high quality Epilepsy care, (3) providing health professional education and training in order to deliver the highest quality of standard of care to veterans with Epilepsy, (4) utilizing national VA and other databases in order to inform providers and policy makers in Central Office about health care delivery and health policy decisions, (5) conducting state-of-the-art research about Epilepsy, and (6) implementing an informatics backbone to meet the above objectives.
We have established 16 sites that are linked to form 4 regional centers.
The epilepsy centers are also linked with the Polytrauma Centers to increase our ability to mutually follow veterans with moderate and severe traumatic brain injury who are at the greatest risk for post-traumatic epilepsy.
The sites are developing protocols to identify veterans with epilepsy and to develop referral networks to enable veterans to obtain specialized treatment such as epilepsy surgery and advanced electro-diagnosis within the veteran healthcare system
Future Goals
To develop jointly a national consortium of providers with interest in treating epilepsy at Department health care facilities lacking an epilepsy center of excellence in order to ensure better access to state-of-the-art diagnosis, research, clinical care, and education for traumatic brain injury and epilepsy throughout the health care system of the Department.
To function as a center of excellence in research, education, and clinical care activities in the diagnosis and treatment of epilepsy.
To perform epilepsy research, education, and clinical care activities in collaboration with Department medical facilities that have centers for research, education, and clinical care activities on complex multi-trauma associated with combat injuries established under section 7327 of title S2162.
To ensure an affiliation with an accredited medical school that provides education and training in neurology, including an arrangement with such school under which medical residents receive education and training in the diagnosis and treatment of epilepsy (including neurosurgery).
To provide an educational opportunity for nursing staff, medical students, house staff, fellows, referring physicians, and patients.
Click here to watch a short video about epilepsy and the Epilepsy Centers of Excellence.

ECoE Centers 

Organization 

Announcements